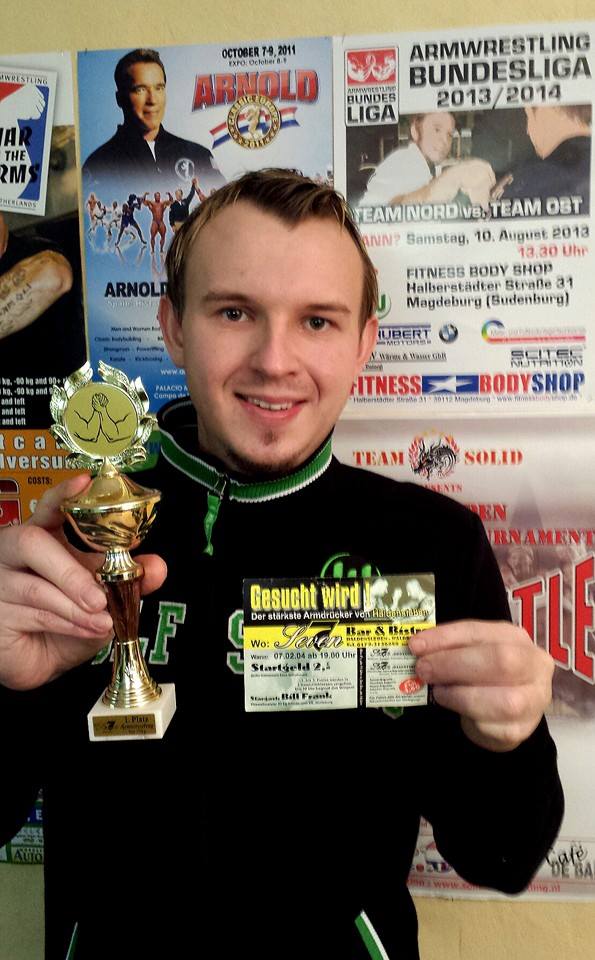 Hey my friends, today is the 7th of February 2014 a very special day. Exactly 10 years ago I stood the first time at the armwrestling table and took part in my first tournament. Since this day I competed in international tournaments around the world, collected titles on local, national and international level, was guest in tv shows and other media all above the globe, traveled more than 30 countries, met amazing people on and off the table and become friends with so many outstanding personalities from different corners of our beautiful planet. A big thank you to the sport which changed my live so much and helped me to develop my personality and skills. Also a huge thank you to all you guys out there to motivate me and keep me fighting.
The photo is with the flyer and trophy from my first armwrestling competition and moment at the table- The Beginning!
In 2004, a little bar in Haldensleben was looking for the strongest armwrestler in the region – my first tournament and the beginning of my career. Without any knowledge or practise I competed in the amateur-class up to 90kg – being only 16 years old with a weight of 65kg. At first, older and more experienced fighters smiled at me for being so light-weighted, but after winning the contest the opinions changed immediately.
The first title
Through my victory in the contest I gained the interest of Bill Frank, Vice-World-Champion and assistant coach from the VfL Wolfsburg.
He invited me to come to a training session which I gladly accepted – and soon I found myself to be a member of the VfL Wolfsburg, being trained by national-coach Olaf Köppen and Vice-World-Champion and multiple awarded German Champion Dirk Schenker.
Matthias "Hellboy" Schlitte